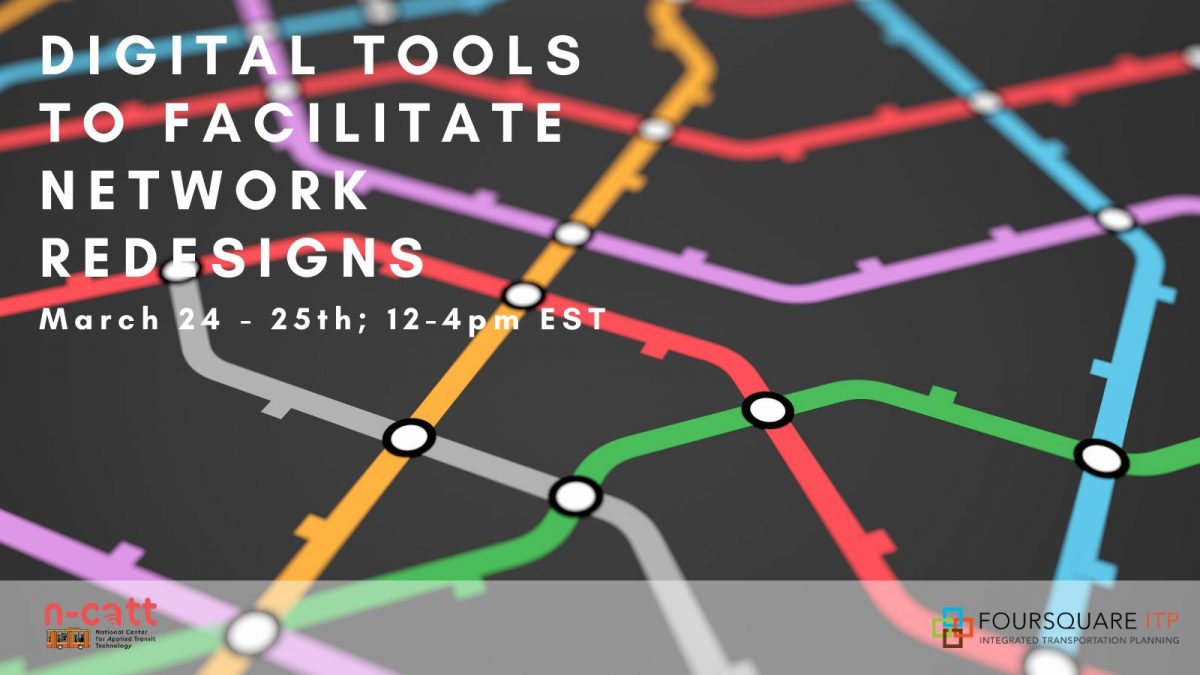 Digital Tools to Facilitate System Redesigns
Host: N-CATT
Date: 24th - 25th Mar 2021
Time: 12:00 pm
Is your agency considering a system redesign, comprehensive operational analysis, or transit development plan? Or are you just thinking about whether it might be time to make changes to your system? If so, this workshop may be for you!
This workshop will bring together experts and participants to explore:
The considerations involved in, and potential benefits of, conducting a system redesign;
The system redesign process and phases; and
Approaches and tools – both fancy and simple! – that can be used to successfully carry out a system redesign.
Each of these topics will be illustrated using case examples from around the country and engaging, hands-on activities that will allow participants to explore the concepts and tools they can apply to their home systems.
The workshop will include two virtual half-day sessions, each from Noon to 4:00 p.m. Eastern. The first session (March 24th) is intended for public transit agency staff and decision-makers at all levels, focusing on formulating an approach for a redesign, while the second session (March 25th) will be for more technical transit agency staff (service planners, GIS analysts, etc.), and will provide opportunities for hands-on exploration of tools that can support a redesign approach.
The registration form includes several survey questions. Your responses will give us valuable input to make the workshop as relevant as possible to you and your agency.
Update: This workshop is currently full; however, you can complete the survey at the link below to join the waiting list. We will notify you by March 23 if a spot for you has become available.
Sign up for waitlist and take survey here
If you have questions regarding the event content or registration, please contact Andrew Carpenter at carpenter@ctaa.org.