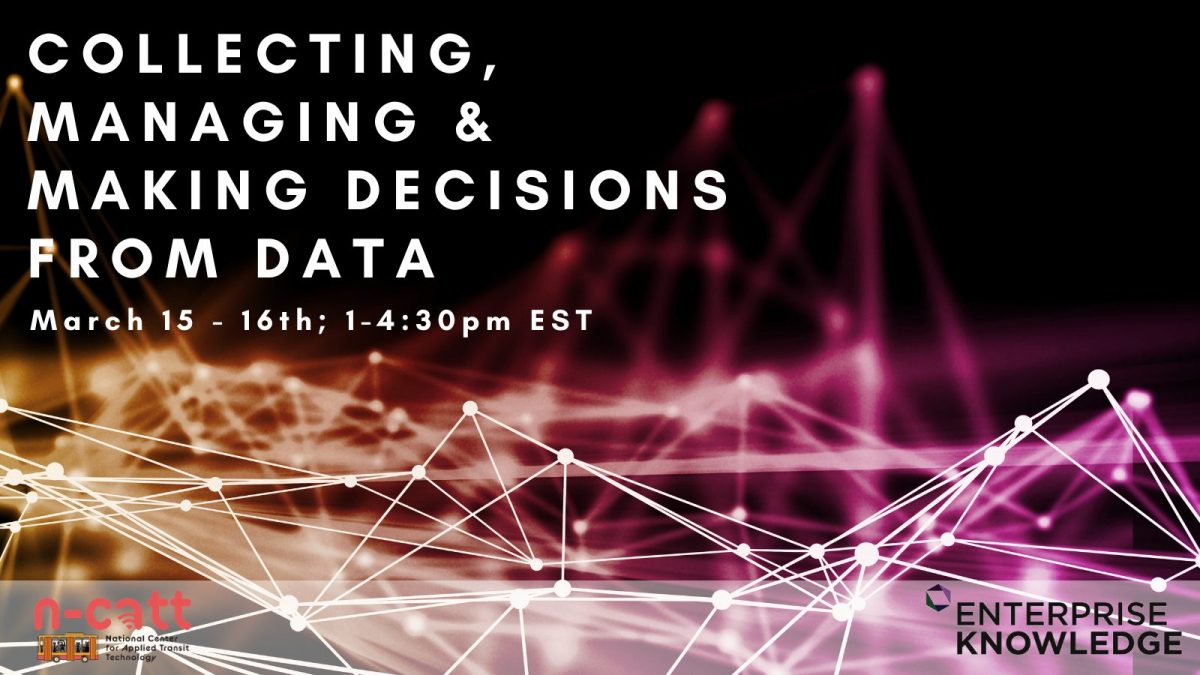 Managing, Collecting, and Making Decisions from Data
Host: N-CATT
Date: 15th - 16th Mar 2021
Time: 1:00 pm
Data has been described as the oil of the 21st century. The insights and decisions we can draw from data are highly valuable, but figuring out how to tap into and manage the immense amounts of information we create can be intimidating.
Enterprise Knowledge (EK) is supporting N-CATT with upskilling Transit Agency Managers' data management practices through the facilitation of a Data Management Workshop for up to 20 participants. The workshop seeks to address common data management challenges and improve our members' data management capabilities through activities and conversations centered around best practices and techniques for data management.
EK will conduct a two-day workshop (3.5 hours each day) with N-CATT Transit Agency Managers, including those who create and/or consume data. The workshop will directly address existing and improved data management practices through customized, hands-on activities, primers, and facilitation techniques to meet participants' specific needs.
The workshop is scheduled for Monday, March 15th and Tuesday, March 16th from 1:00 - 4:30pm ET including breaks.
If you have questions regarding the event content or registration, please contact Andrew Carpenter at carpenter@ctaa.org.
Space is limited to 20 participants, so sign up today!
After registering, please fill out this survey! This will help us better understand the general landscape of data readiness for our audience.