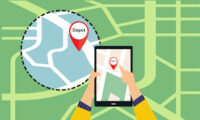 GTFS Flex: What is it and How is it Used?
What kind of technology is GTFS-Flex?
GTFS-Flex extends the GTFS data format with files and fields that describe demand-responsive transportation (e.g., "dial-a-ride"), enabling riders to discover those services online in trip planning apps.
What problems does GTFS-Flex solve for public transit?
Demand-responsive transit has historically been excluded from the trip planning ecosystem, making it difficult for riders, especially for seniors and people with disabilities, to discover and access these services. GTFS-Flex brings demand-responsive trip planning to these apps, resulting in:
Wider visibility of all transportation services an agency offers
Clearer, more consistent information of those services
Increased rider trust and confidence
Each one of these outcomes contributes to increased ridership.
Where is GTFS-Flex in its development today?
Because it is not yet officially part of GTFS, some organizations have implemented GTFS-Flex in fully-realized trip planning tools to test and demonstrate its viability. Other major companies plan to support the technology once it is officially part of GTFS.
Significant developments around Flex in recent months have brought Flex closer to integration with GTFS than ever. A vote on its adoption is expected to take place in Fall 2023.
GTFS-Flex also lays groundwork for future improvements to the rider experience like real-time information and integrated booking.
Additional Details and Related Technology
GTFS-Flex is a free, open-source (i.e., non-proprietary) technology, compatible with any already-existing GTFS dataset.
OpenTripPlanner has been a key supporting technology in developing GTFS-Flex-based trip planning.
Where it is Used
Other GTFS-Flex Resources
About Trillium
Trillium, an Optibus company,  is a software company developing GTFS-based technologies. They maintain GTFS data for over 300 transit agencies in the U.S.
Printable Factsheet