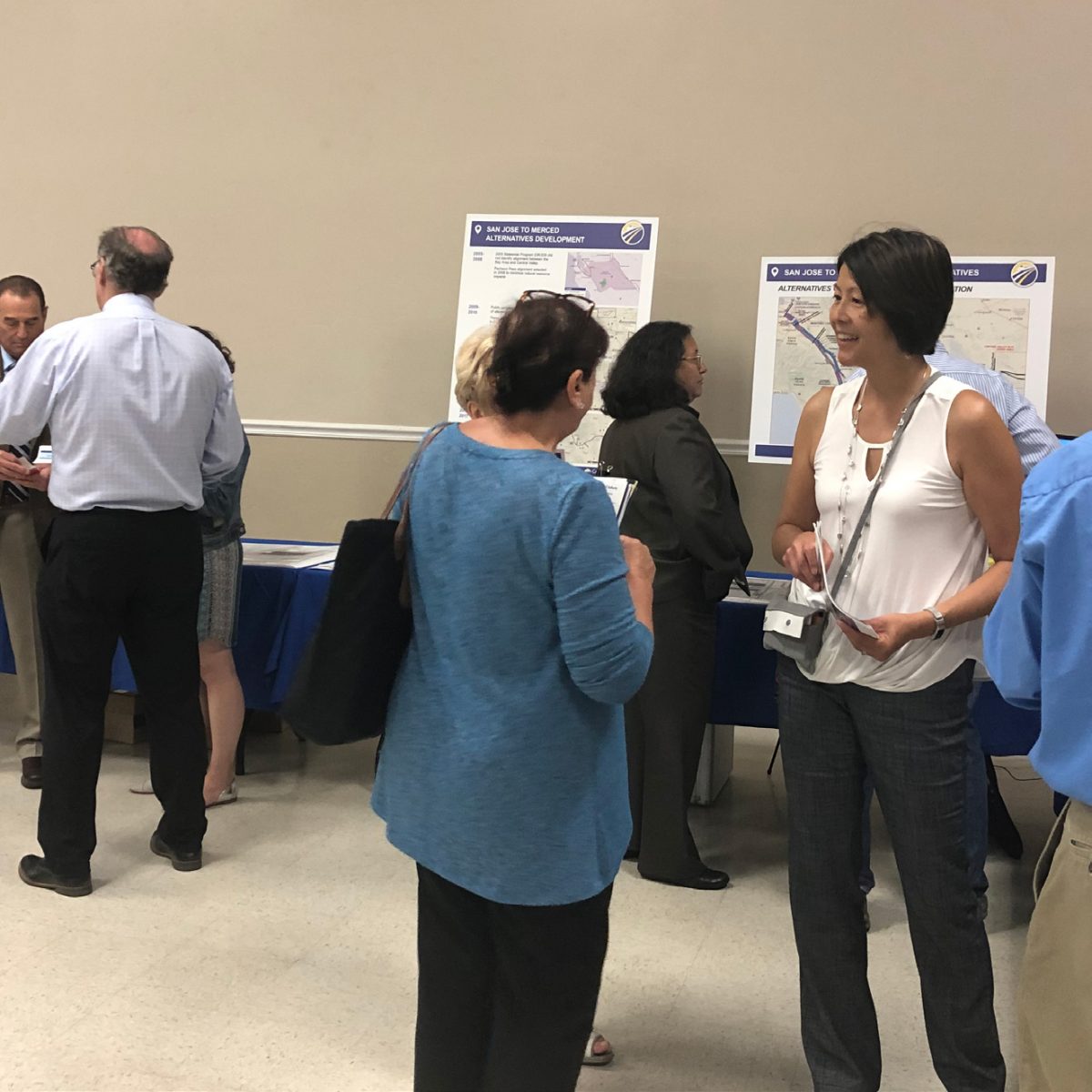 Virtual Engagement Guidebook
4. Implementation
Jump to section
Tools and Applications
Many platforms and tools can support transportation organizations in facilitating and enhancing virtual engagement among key stakeholders and groups. This section outlines virtual engagement tools and provides examples of commonly used platforms. This section does not provide an exhaustive list of tools or platforms.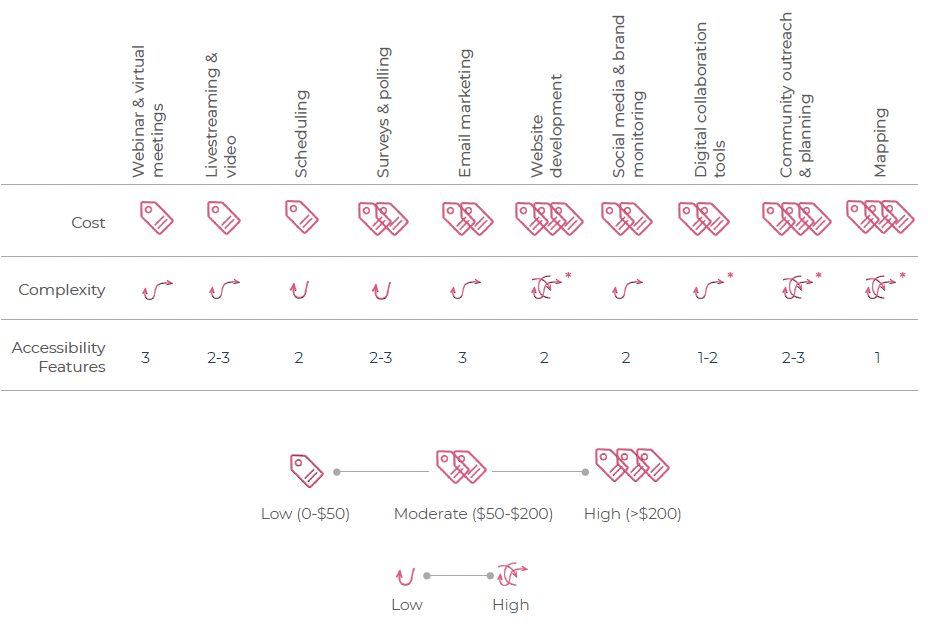 *Indicates that an upper range of a consideration was provided. Other, less resource heavy and complex, options exists depending on the platform. See more details in the sidebar of each tool type.
Webinar & Virtual Meetings
Webinar and virtual meeting platforms are used to convene groups of people in a virtual setting. Webinars and virtual meetings and events can imitate in-person settings, as they offer the opportunity to remotely interact with stakeholders, share information, collaborate, and more. Many webinar and virtual meeting platforms offer free plans for users, though subscribing to a platform gives the user enhanced platform capabilities and functionalities.
Examples
Zoom is a video communications platform that offers video and audio conferencing, webinars, screen-sharing, live chats, polling, and other collaborative capabilities. This platform offers an interface that many organizations value for its simplicity, Zoom offers a variety of pricing plans to meet user needs depending on the meeting size, collaborative technology needs, and meeting objectives. Zoom meeting plans range from free to $75,000 per license annually.
Google Meet is a video-communication service that offers video conferencing, adjustable layouts and screen settings, screen sharing, and live chat. Notably, Google Meet also offers automated, live closed captioning during the meeting. This platform ranges from free to $25 per user per month.
Other Examples: Adobe Connect, GoToMeeting, Microsoft Teams, WebEx, RingCentral, BlueJeans.
Livestreaming & Video
Livestreaming and video platforms enable users to broadcast virtual meetings or events to participants and host videos online. These tools are especially useful for transmitting live events and recorded meetings to stakeholders.
Examples
YouTube is an online social media platform for sharing pre-recorded videos or livestreaming. This free platform allows users to watch videos posted by other users and upload videos of their own. YouTube also offers tools to broadcast and manage livestreams and interact with viewers in real time.
Vimeo is a video-sharing platform that allows users to create and share videos and livestreaming. This platform offers many features that allow users to customize video uploads and livestreams, meet accessibility standards, and embed videos within mobile and web-based sites. Additionally, videos can be shared publicly or kept private (or password-protected to restrict access.) The cost of this platform ranges from free to $75 per month.
Other Examples: Facebook Live, Instagram
Scheduling
Virtual scheduling platforms can help to simplify scheduling and event logistics by creating RSVP lists, setting meeting dates & times, and sharing event details with stakeholders.
Examples
Doodle is an online scheduling tool that can be used to quickly find a date and time to meet with multiple people. This platform ranges from free to $30 per month with additional features.
Eventbrite is a platform that helps users create, browse, and promote a wide variety of local events. This platform enables users to create customizable event pages, run targeted email and social media campaigns, and analyze attendee characteristics and demographics. The goal of the platform is to simplify ticketing and registration for any type of event. There is no charge for free events.
Other Examples: Microsoft FindTime
Surveys & Polling
Survey and polling tools can be used to collect qualitative and quantitative information and feedback from stakeholder groups and add interactive elements to virtual meetings. Surveys and polling help to inform specific questions in a clear manner. Survey and polling tools can be implemented relatively easily into the virtual engagement process. Often, webinar and virtual meeting platforms include in-meeting polling options that can be displayed during the meeting. There are also a variety of external survey and polling platforms that can be integrated at no cost or at a moderate cost.
Examples
Google Forms is a survey administration platform that enables users to create surveys and edit them with others at the same time. The platform offers survey templates, so creating a survey can be done quickly and easily. Questions may be formatted as multiple choice, linear scale, short answer, paragraph, or checkbox.. Once a survey has concluded, responses are analyzed and organized into easily digestible infographics and charts. This platform is free with a Google account.
Poll Everywhere is a polling platform that displays polling results in real-time through bar charts, word clouds, circle graphs, and more. Poll Everywhere can be embedded within presentation platforms, such as PowerPoint and Google Slides, to allow for seamless, interactive engagement during a presentation. The price of this platform ranges from free to $84 per month.
Qualtrics is an online survey tool that allows users to develop and distribute surveys with graphics, branching, and randomization. Key features include feedback collection, concept testing, product prioritization, opportunity assessment, and reporting. Qualtrics plans range from $1,500 to $5,000 per year.
Other Examples: Google Forms, SurveyMonkey, Microsoft Forms, Mentimeter
Emailing Marketing
Email marketing is the process of distributing information to a targeted audience through email. This is an efficient and cost-effective way to engage stakeholders, share information, advance brand awareness, and promote upcoming activities and initiatives. Many platforms exist to aid in creating engaging email marketing campaigns and developing well-designed content.
Examples
MailChimp is an integrated email marketing platform that offers the ability to create and manage mailing lists, newsletters, and automated campaigns. This platform includes a variety of tools to help design newsletters, receive audience insights, and create compelling content. MailChimp also enables users to access insights into digital marketing efforts by collecting data on clickthrough and open rates, audience engagement, social performance, and more. The price of this platform ranges from free to $300 per month
Constant Contact is digital marketing software that offers email and social marketing tools, website development, and more. Constant Contact's email marketing service offers subscription forms, customized templates, mobileresponsive email campaigns, and an editing dashboard to make creating and transmitting email marketing content as simple as possible. This platform ranges from $20 to $45 per month.
Other Examples: Marketo, NationBuilder, Nixle
Website Development
Website design and development is an important virtual component for any transportation agency or organization since it shapes how stakeholders perceive an agency's brand and reputation. A well-designed website that optimizes the user experience can effectively communicate information and updates, share resources, engage the community, and improve connectivity with stakeholders. While designing and developing a website can be a more advanced task, there are many online platforms to guide the process and optimize digital reach.
Examples
WordPress is a virtual system that aids users in developing and managing a website. This platform aims to simplify the website development process by offering customizable site layouts, a media file library, easy-to-navigate settings and content dashboard, and add-ons that help meet the objectives of any website. Word Press also offers built-in search engine optimization (SEO) and analytics tools to analyze website performance and engagement data. This platform ranges from free to $45 per month.
SquareSpace is a website building and hosting platform that lets users create a website in a web browser without coding. This platform offers website templates, navigation, and menus, as well as a variety of fonts, imagery, and margins within the built-in styles. SquareSpace also features SEO and analytics tools to maximize visibility among internet search results and understand website traffic. This platform ranges from $12 to $40 per month.
Google Analytics is a free web analytics tool that tracks and reports website traffic and the performance of marketing and content. Once an agency associates their website with Google Analytics, the tool will begin collecting data on website views, pageviews, user activities and sessions, average time on page, bounce rate, entrances, and exit rate. These data points can be helpful to inform whether a website is used, the rate of engagement among site users, and what users are doing on the site.
Other Examples: Weebly, Google Sites, Wix
Social Media & Brand Monitoring
Social media and brand monitoring tools help optimize the performance of digital content. These tools aid in curating social media content, managing targeted stakeholder lists, scheduling posts and digital outreach, and analyzing performance metrics of social media and online content.
Examples
Cision is an media software and service that allows users to identify and manage targeted lists of stakeholders based on interest area. It can craft and distribute strategic pitch content and analyze engagement rates. This platform costs approximately $7,200 per year.
Hoot Suite is a social media marketing and management dashboard that allow users to curate social media content, schedule posts, coordinate project management, and measure content performance analytics. Plans range from $49 to $599 per month.
Other Examples: Tweet Deck, Talkwalker, Meltwater
Mapping
Incorporating interactive mapping tools into public engagement efforts can be especially useful during transportation planning processes. Existing digital tools can be used to create maps that collect data from participants to inform planning processes.
Example
Maptionnaire is a community engagement platform that engages participants through mapping activities to collect survey data. This tool enables users to design mapbased questionnaires, polls, and surveys to synthesize data and arrange participatory budgeting. Insights from the questionnaires are converted into digestible insights to develop a greater understanding of the results. This tool costs more than $6000 for an annual plan.
Other Examples: ESRI, Crowdspot, Wikimaps
Data Collaboration Tools
Digital collaboration tools provide the opportunity for groups of people to work together creatively to address issues and topics of concern. While many virtual meeting and webinar platforms offer in-meeting collaboration tools, such as virtual whiteboarding and annotation, there are a number of external digital tools that can aid the collaboration process.
Examples
Miro is an online visual collaboration whiteboarding platform. Through Miro, users can create virtual sticky notes and designs, move items around, and communicate through embedded video calls or online chats. This platform also offers pre-built templates as a starting place for collaborative work. The platform ranges from free to $10 per user per month.
Codigital is a digital collaboration tool that enables large groups to generate, prioritize, and refine ideas. Participants can vote, edit, or add ideas, creating a population of answers to choose from. Pairs of answers are shown to different people and each time, they are asked to pick the one they prefer. Statistical analysis of all these head-to-head comparisons identifies the best answers and they are selected to "survive" into the next round of rankings.
Other Examples: Ethelo, Modria, MURAL, Padlet, Participate.online, Trokt
Community Outreach & Planning
Community outreach and planning tools offer a variety of services to engage with stakeholders in different ways. They are designed to reach a diverse set of stakeholders, and especially hard-to-reach communities. Incorporating community outreach and planning tools may supplement or enhance a transportation agency's engagement process by enabling them to broaden outreach, collect greater data, and make well-informed decisions.
Examples
Bang the Table is a digital engagement platform for community outreach and public participation in local and regional government processes. The platform offers a suite of engagement tools for surveys, polling, Q&A, ideation, mapping, virtual forums and more. To complement these tools, Bang the Table also offers a dashboard of analytical tools that help users analyze feedback on results and processes, benchmark progress against industry standards, and evaluate upcoming project interests, critical areas, and important stakeholders. Services typically cost between $1,000 and several thousand dollars per month.
MetroQuest is an online public involvement platform that develops engagement surveys specifically for urban transportation planning. The platform includes virtual and interactive elements designed to educate the public and gather informed feedback. MetroQuest helps users design surveys that are short and impactful, multi-device compatible, and cost-effective, and include micro-learning opportunities. This platform costs $4,000 per month
Other Examples: NationBuilder, MindMixer, coUrbanize
Additional Guidance
Accessibility & 508 Compliance
Section 508 of the Rehabilitation Act (29 U.S.C. § 794d) requires federal agencies to develop, procure, maintain, and use electronic and information technology that is accessible to people with disabilities – regardless of whether they work for the federal government. Accessible digital products include electronic content such as documents, videos web pages, presentation, social media content, and certain emails. This section overviews some types of virtual content that a transit agency might need to make accessible.
Create Accessible Video and Audio
Section 508 requires all users, regardless of disability, to have a comparable experience engaging with all forms of government media, including videos. For a video to be accessible to a viewer, the person watching it must be able to understand what is happening in both the visual and audio portions of the video. Videos that meet the standards of Section 508 and are accessible to the disabled are known as being "508-compliant." The following three elements are needed to have a 508-compliant video:
| | |
| --- | --- |
| Legal Requirement | Standard |
| 508-Compliant Video Player | Ensures a person who requires keyboard navigation, or an assistive device can navigate the window where the video plays (that is, the video player). |
| Closed Captioning | The audio parts of your video appear as text at the appropriate time and give access to people who are hearing impaired or deaf. |
| Audio Description | A description of a video's visual elements, gives access to people who are blind or visually impaired. |
Create Accessible Social Media
Many entities are increasingly using social media to conduct outreach, engage with stakeholders, and share information and resources. As social content, data, and platforms become more diverse, agencies have a responsibility to ensure that their social media content is accessible to all citizens, including people with disabilities. When making Facebook posts more accessible, there are several tips that users should consider.
Add captions to photos to ensure that individuals understand what is occurring in the pictures. Captions do not need to be long, but they should describe what the scene is and how the elements of the image appear to provide context for the image.
When including acronyms, always spell out the first instance of the acronym and add the acronym in parentheses after. This tip is especially helpful for individuals who use screen readers because it always the user to better associate the sound of the acronym with the full name.
Videos uploaded directly to Facebook should include closed captioning.
There are several tips that users can employ when looking to make their Twitter account more accessible. Users can enable the setting on Twitter to use the "image description" feature. This will allow users to include a descriptive caption to any photo that is directly included within a tweet. Consider including an indication that a link in a tweet is a photo, video, or audio file by including "[PIC]," "[VIDEO]," or "[AUDIO]." This allows users employing screen readers to know what to expect before opening a link. Additionally, ensure that linked content is accessible, such as a tagged photo, captioned video, or audio with a written transcript. Instagram does not currently include settings that enable alternative text, so users should provide a detailed caption to describe the posted image. Similarly, Instagram does not currently include the ability to add closed captioning to videos, so users should provide a detailed caption that describes what is happening in the video or add closed captioning within the video file before it is uploaded to Instagram.
Create Accessible PDF and Word Documents
Section 508 set forth accessibility standards that require electronic document accessibility for everyone, including individuals with disabilities. Users should assign the appropriate styles and formatting. For example, the documents title should be formatted as "Title" and the primary header for that page should be "Header 1." This ensures that page readers are able to read through the document accurately. It is also recommended that users employ an accessibility check to ensure that there are no web accessibility problems. Both Word and Adobe Acrobat enable users to run accessibility checks on documents within the platform.
To learn more about how to make digital content 508-compliant and access helpful resources, visit here. For additional resources and guidance on creating accessible video and audio content, visit here. To learn more about how to create 508-compliant Word documents, visit here; for PDF documents, visit here.
Engaging Vendors
With seemingly endless virtual engagement platforms and digital services offered, it can feel overwhelming to choose the right platform or service.
Schedule a Call with a Sales Agent or Representative
When looking to engage a vendor, it is considered a best practice to schedule a call with a sales agent or platform representative, instead of relying solely on the platform's website or secondary sites. Individuals should identify the core needs of their use and confirm with the representative that these needs are included within the proposed license or service agreement. Speaking with an agent or representative directly is more likely to ensure that a license or service is specifically customized to an individual's need, and may also allow the representative to share any promotions.
Understand the Duration of the License or Service Need
Individuals should understand how long they will need to use the license or service. When determining duration, consider the length of the project or engagement, and build in time for planning considerations, such as setting up the tool and any post-engagement needs. Additionally, individuals should understand the contract for extending the duration of the license or service, or adding more users.
Confirm Budget Needs
It is recommended that individuals understand the scope of their budget for the license or service. For example, webinar platforms are likely to bill for their service on a monthly or annual basis, while closed captioning or translation/interpretation vendors are more likely to bill on a per hour basis.
Use Quotes Competitively
In a time where resources are constrained, individuals might consider using quotes competitively between platforms and vendors to receive the best deal and value. For example, if an individual receives a specific quote from one webinar platform, consider taking that quote to a secondary platform to understand if the secondary platform can match or beat the price.
Identify the Legal Requirements for the Project
Transportation organizations should understand the legal requirements of a specific project or engagement event before confirming a platform or service. For example, there is a difference between offering closed captioning and including court reporting within an engagement event. These two services would likely require different vendors.