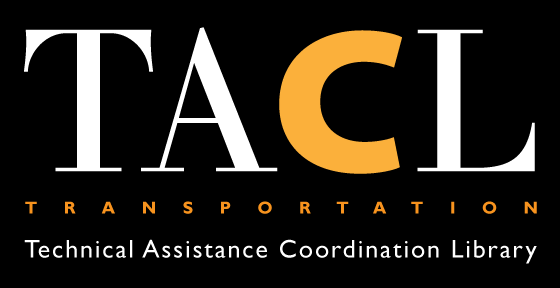 Partner Resource: Transportation Technical Assistance Coordination Library
The Transportation Technical Assistance Coordination Library (TACL) provides a centralized resource on coordination from a range of transportation technical assistance centers and the Federal Transit Administration.
The FTA-funded Technical Assistance (TA) Centers participating in this ongoing work are:
National Aging and Disability Transportation Center (NADTC)
National Center for Applied Transit Technology (N-CATT)
National Center for Mobility Management (NCMM)
National Rural Transit Assistance Program (National RTAP)
Shared Use Mobility Center (SUMC)
TACL resources can be used to identify high quality technical assistance on transportation coordination. The
resources can be used for research, practice, operations, planning, and other purposes. We encourage
authors to cite TACL resources.
Ready to get started? Visit http://www.transportation-tacl.org. Click on the Training tab at the top for instructions.