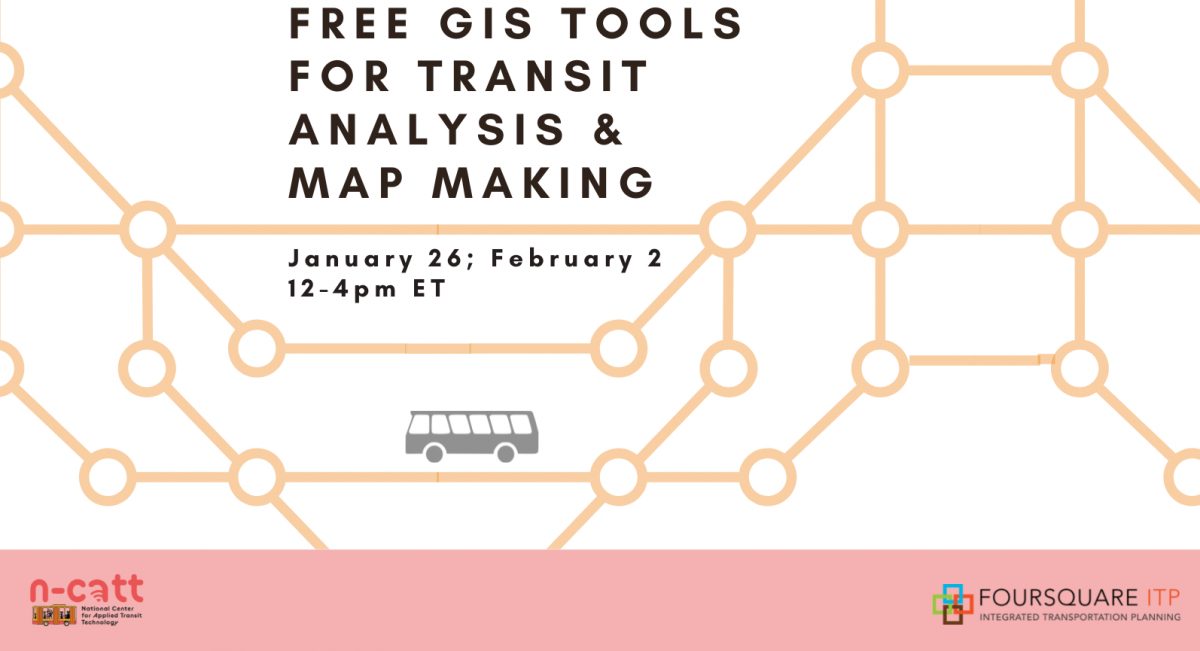 Free GIS Tools for Transit Analysis & Map Making
Host: National Center for Applied Transit Technology
Date: 26th Jan - 2nd Feb 2022
Time: 12:00 pm
Is your transit agency interested in upping your GIS analysis or map-making skills? Are you looking for free GIS tools that will help make your transit planning better? If so, this workshop may be for you!
This hands-on workshop for transit agency staff will bring together experts and participants to explore:
How to access and use free GIS and online mapping tools;
How to make maps and perform transit planning analyses; and
Approaches and tools – both fancy and simple! – that can be used to successfully implement new mapping technology in your transit planning.
Each of these topics will be illustrated using sample data and scenarios and engaging, hands-on activities that will allow participants to explore the concepts and tools they can apply to their home systems.
The workshop will include two virtual half-day sessions, each from Noon to 4:00 p.m. Eastern, held two Wednesdays in a row in early 2022: January 26 and February 2.
The workshop will include optional take-home activities to be completed between the two sessions to maximize participants' learning opportunities.
Please use this link (click here) to register and fill out a survey that will help us tailor the workshop to fit participant needs.
We appreciate the broad interest that exists around this topic. However, this workshop is formatted for transit agency practitioners to allow them to freely exchange ideas and discuss best practices. Because N-CATT is a technical assistance center funded by the FTA to support small-urban, rural, and tribal transit agencies, registration priority will be given to small-urban, rural, and tribal transit agencies. Other agencies, members of the private sector, and transit advocacy groups who are interested in the workshop will be placed on the waiting list, with access to the workshop based on availability.
Space is limited, register ASAP to reserve your spot!
If you have questions regarding the event content or registration, please contact Marcela Moreno at moreno@ctaa.org.