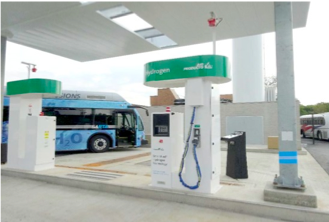 Choosing the Right Low-No Type of Vehicle
Jump to section
Low-emission vehicles (LEV) produce fewer emissions than the average internal combustion engine vehicle, whereas zero-emission vehicles (ZEB) produce no tailpipe emissions. Low-emission vehicles include hybrid vehicles and those powered by compressed natural gas (CNG) and propane. ZEB vehicles are electric vehicles powered by hydrogen fuel cells or batteries. LEV and ZEB projects (vehicles and infrastructure) are both eligible for funding under the FTA 5339(c) Low or No Emission Vehicle (i.e., "Low-No") Program
Low-No Vehicle Types
Fuel Cell
A fuel cell vehicle uses hydrogen fuel cells as its power source to convert the energy produced by the reaction between hydrogen and oxygen into usable energy that powers the motor (often called an electric drive train).
Battery-Electric
Battery-electric buses (BEB) are powered by an electric motor fueled by energy stored in a battery located on the vehicle.
Conventional Hybrid
Conventional diesel-electric hybrid vehicles have a diesel engine that recharges onboard batteries through regenerative braking to power an electric motor for at least a portion of the vehicle propulsion. This type of vehicle uses less fuel than that of a conventional engine, and is therefore considered low-emission.
Compressed Natural Gas (CNG)
CNG is methane stored at high pressure and used as fuel in traditional gas-powered engines, with fuel tanks stored on the roof of the vehicle.
Propane
Propane vehicle engines operate similar to that of diesel engines but are not widely used to power heavy-duty vehicles.
Questions to ask before choosing an alternative fuel
What goal are you trying to achieve with deploying an alternative fuel?
How many miles per day do I need the bus to travel?
What size bus am I trying to replace?
How often will my bus need to be charged/fueled? At what time of day? How long will it take?
What is the availability of power infrastructure?
What type of space constraints do I have at my facility?
What facility upgrades will I need?
Do we run the HVAC system a lot on vehicles?
What type of climate and terrain do I operate in?
Is there a fuel source nearby?
Pros and Cons of Alternative Fuels
Technology
Pros
Cons
Conventional Hybrid

No infrastructure investments
Long driving range
Proven technology
Lower maintenance cost per mile than conventional diesel

Vehicle cost is often 1.33 times greater than conventional diesel
Moderately fewer GHG emissions than conventional diesel

Fuel Cell

No greenhouse gas (GHG) emissions
Longest ZEB driving range
Lighter than battery electric
Safer fuel source in event of fire
No fuel spills

Major infrastructure investments
Vehicle cost is often 2 times greater than conventional diesel
Highest fuel costs per mile
Concern over fuel availability
Fuel cells must be replaced at 7 years
Highest life cycle cost
Highest maintenance cost per mile

Battery-Electric

No GHG emissions
Less noise produced by motor
Lowest maintenance cost per mile for heavy duty vehicles
No fuel spills
Lowest ZEB vehicle cost
Fuel is not shipped in, or stored in on-site tanks
Lowest fuel cost per mile
Facility solar panels can aid in producing own fuel

Higher vehicle cost than internal combustion engines
Major infrastructure investments
Utility coordination
Range anxiety
Winter heating concerns
Larger parking footprint
Long fuelling (charging) times
Reliability concerns
Variable electric rates significantly impact costs
Batteries are replaced after 7 years

CNG

Slightly higher vehicle cost than diesel
Long driving range

Major infrastructure investments
Largest GHG and CAP emissions of all alternative fuels with combustible engine
Better suited for warmer climates
Pipeline constraints result in moratoriums on new hook ups
No maintenance cost savings compared to diesel

Propane

Performance does not decrease in cold climates
Lowest maintenance cost per mile
Long driving range
Lowest fuelling infrastructure cost

Facility upgrades needed
Not available in heavy duty vehicles
GHG are comparable to conventional diesel
If you'd like to view the PDF version of this factsheet, click here
Sources
Propane Education and Research Council. "A COMPARATIVE ANALYSIS OF GRENNHOUSE GAS EMISSIONS FROM PROPANE AND COMPETING ENERGY OPTIONS"  (2014) https://nexightgroup.com/wp-content/uploads/2014/08/Comparative-Analysis-Of-GHG-Emissions-June-2014.pdf
U.S. Department of Energy. "Clean Cities Alternative Fuel Report" (July 2021) https://afdc.energy.gov/files/u/publication/alternative_fuel_price_report_july_2021.pdf
TCRP Research Report 219. "Guidebook for Deploying Zero-Emissions Transit Buses" (2021) https://www.nap.edu/catalog/25842/guidebook-for-deploying-zero-emission-transit-buses
Connecticut Center for Advanced Technology, "Fuel Cell Electric Buses: A business Case for Clean Transportation in Connecticut" (January 2018) http://chfcc.org/wp-content/uploads/2018/04/FCEB-Business-Case-1-23-18f.pdf
Carnegie Mellon University, Scott Institute for Energy innovation. "Which Alternative Fuel Technology is Best for Transit Buses?" (January 2017) https://www.cmu.edu/energy/education-outreach/public-outreach/17-104%20Policy%20Brief%20Buses_WEB.pdf
Greater New Haven Clean Cities Coalition. "How can I compare the energy content of alternative fuels and gasoline or diesel?" (April 2017) https://nhcleancities.org/2017/04/can-compare-energy-content-alternative-fuels-gasoline-diesel/
Tong, F. Et al. Transportation Research Part D: Transport and the Environment. "Life cycle ownership cost and environmental externality of alternative fuel options for Transit Buses" (Dec 2017) https://www.sciencedirect.com/science/article/abs/pii/S136192091630476X
National Renewable Energy Laboratory. "Fuel Cell Buses in U.S. Transit Fleets: Current Status 2017" (November 2017) https://www.nrel.gov/docs/fy18osti/70075.pdf
National Renewable Energy Laboratory. "AFLEET Tool 2020" (April 2021)  https://greet.es.anl.gov/afleet_tool
Energy for Everyone Propane. "Propane Autogas Refueling Options". Website accessed 5/31/2022 https://propane.com/for-my-business/fleet-vehicles/propane-autogas-refueling-options/#/find/nearest?fuel=LPG&lpg_secondary=true&country=US
NC Clean Energy Technology Center. "Financing Models: Propane Autogas Vehicles and Infrastructure" (June 2018) https://nccleantech.ncsu.edu/wp-content/uploads/2018/06/Propane-Finance-Models.pdf