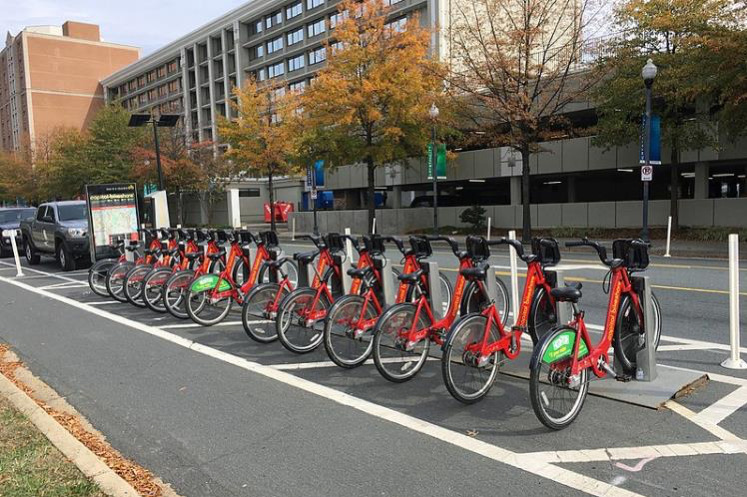 Micromobility and Transit
Jump to section
Executive Summary
1.1   Background
"Micromobility" is a general term that refers to small, low-speed, human- or electric-powered transportation device, including bicycles, scooters, electric-assist bicycles (e-bikes), electric scooters (e-scooters), and other small, lightweight, wheeled conveyances (FHWA, 2022). Two hundred communities in the United States are served by at least one micromobility provider. While the majority of shared micromobility trips occur in large metro areas, there are dozens of systems that serve small metro or rural areas; in fact, the first bikeshare program in the US was the Tulsa Townies, started in 2007 in Tulsa, Oklahoma. Shared micromobility has the potential to have a positive impact on public health; reduce trips that would otherwise be made with automobiles; and, serve first mile/last mile connections to transit. Shared micromobility is the country's fastest growing mode of transportation, with annual trips increasing from 22 million in 2015 to 136 million in 2019 (NACTO 2020). To date, much of the research and attention paid to micromobility has focused on its application in large cities. This guidebook looks specifically on how the mode can serve the transportation needs of small urban, rural, and tribal communities.
1.2   Study Purpose and Methodology
Shared micromobility has proven to be an effective car-free mode of travel in urban areas, yet there is limited guidance on micromobility that is targeted toward smaller cities and rural areas. This Guidebook explores shared micromobility use cases in non-traditional settings to offer insight on how transit agencies and local jurisdictions could implement similar programs. The Guidebook provides an overview of industry trends; how shared micromobility systems interact with transit; and strategies for managing, operating, regulating, and monitoring shared micromobility programs while considering risk and liability. The research team conducted an extensive literature review; conducted eight interviews with agencies, jurisdictions, and a vendor; and worked closely with N-CATT staff to develop the Guidebook.
| | | |
| --- | --- | --- |
| Interviewee | Interviewee Title | Organization Name |
| Parker Aden | Executive Director | Pocahontas Chamber of Commerce, Pocahontas, IA |
| Ricardo Cardenas | Branch Manager | Anythink Library, Commerce City, CO |
| Alison Cohen | Founder | Bicycle Transit Systems |
| Benny Foltz | Executive Director | Heartland Bikeshare, various locations in Nebraska |
| Tim Geibel | General Manager | Crawford Area Transportation Authority (CATA) and Venango County Transit, Meadville, PA |
| Elliott McFadden | Greater Minnesota Shared Mobility Program Coordinator | Minnesota Department of Transportation |
| Cindy Moore | Sustainability Manager | City of Goleta, CA |
| Philip Pugliese | General Manager, Planning and Grants | Chattanooga Area Regional Transportation Authority (CARTA), Chattanooga, TN |
For a printable, PDF version of this guidebook, click here