On Demand Transit and Microtransit: Where and Why
Why are Agencies choosing Microtransit
Introduction
While microtransit is still a relatively new type of demand responsive transit, numerous reasons ranging from customer service to cost efficiencies have led rural and small urban transit agencies to integrate microtransit into their operational practices. Building upon the case study research conducted in Chapter 2, this chapter describes the benefits of microtransit to both agencies and their customers, as well as the three most common use cases applied by agencies to achieve their goals. The chapter concludes by identifying the variables agencies should consider to better understand the need for a microtransit program.
A growing body of research identifies the potential benefits of microtransit. While there are potential downfalls of microtransit service, such as needing enhanced marketing campaigns, increased training of staff and customers alike, and the possibility of cost or capacity issues if planned incorrectly (to name a few), the following section presents the numerous potential benefits for agencies and their customers (Figure 6).
Figure 6: Microtransit Potential Benefits
Potential Benefits for an Agency
Potential Benefits for Customers

Increase performance of existing services
Reduce call center staff dependency
Minimal bus stop investments
Improve data collection, reporting, and analytics

Enhance customer experience
Improve service for transit-oriented populations
Low-cost alternative to TNCs
Sense of safety
Increased ridership
Increased market
Public Agency Provider
Improved Performance of Existing Services
A key reason public transit agencies are integrating microtransit into operational practice is to improve existing services' performance. Ridership is a key indicator that drives performance, as services with low passenger utilization rates result in underperforming efficiency and effectiveness. A benefit of microtransit is that agencies can evaluate existing services to identify which services are underperforming and determine the feasibility of replacing the service with microtransit. For fixed-routes and deviated fixed-routes that can include identifying segments or entire routes with low ridership in terms of passengers per trip or vehicle load and eliminating the underutilized segments or routes, potentially improving the service performance. Microtransit is not always a suitable option. Public transit agencies should conduct a feasibility study to assess whether microtransit is a replacement that can potentially lead to improving performance. At the system level, a new microtransit service can be used as an FM/LM connector service to and from fixed-route services or transit facilities. Improving access to existing services can lead to the retention and attraction of new customers who would utilize both the fixed-route and microtransit services, potentially improving systemwide performance. For demand-response transit, enhancing the service delivery model to allow customers to use a smartphone app to book a trip and track a vehicle to their curb (or nearest corner) in real-time is convenient and has the potential to lead to increasing ridership and improving performance.
Reduced Call Center Staff
The traditional demand-response transit model predominantly relies on call center personnel. Agency staff is responsible for collecting customer trip information, inputting the data into the reservation system, processing the trip request, and scheduling rides with customers. In addition, for ADA paratransit customers and elderly customers, employees are responsible for ensuring customers are eligible to use the service. The benefit of microtransit is that the service can be designed to reduce dependency on the public agency staff. Customers who elect to use a smartphone are offered the opportunity to plan their trip in real-time, reserve a seat on the vehicle, and pay for the trip. Most importantly, the smartphone app allows customers to track the vehicle in real-time to their pickup location, reducing the need for customers to call in to determine the exact time of arrival. In return, these elements of the transit planning process are alleviated from staff duties. The reduced staff members can be used to continue with the traditional call center activities of assisting customers who are uncomfortable with using a smartphone or without access to a smartphone.
A survey of West Sacramento's microtransit program found that aging populations switched from driving and started using the service for frequent trip purposes.
Minimal Bus Stop Investments
Similar to the demand-response transit model, minimal physical bus stops are required for microtransit service. Another benefit of microtransit is that public agencies can use either designated bus stops or virtual bus stops, or even a combination of the two. In the case where there are functional bus stops, the microtransit vehicle can use the existing on-street bus stop in conjunction with other transit services. Where agencies decide to deploy the virtual bus stop model, the vehicle can stop at a curb or corner for passenger loading and unloading. When agencies use microtransit services to connect to transit hubs such as transit centers and park-and-ride lots, existing bus bay or on-street space can be allocated to the microtransit vehicle (this may require agencies to modify bus bay assignments or street space slightly). Whichever bus stop model an agency elects to use, the microtransit service should be designed to integrate with the existing infrastructure.
Improved Data Collection, Analytics, and Reporting
In recent years, technological advancements have enhanced how public agencies collect, analyze, and report data. A benefit of microtransit is that for customers who elect to use a smartphone app solely, public agencies are able to collect data in real-time. For example, passenger travel behaviors, including trip origin-destinations, frequency of use, and travel day(s)/time periods, can be readily available. While sensitive, public agencies can also work with the smartphone app developer to allow customers to set up profiles to identify their demographics. Another benefit is that public agencies have the ability to send satisfaction surveys to customers on a more regular basis. Similar to the Uber/Lyft model, after a customer ends a trip, a voluntary notification can appear on their smartphone (or the device used for the trip) to rate the trip and ask questions to gain feedback on the service. Since all the data is captured electronically via a smartphone app, public agencies can more efficiently process and analyze the data and make service adjustments to improve efficiency and customer experience.
Public Agency Customer
Enhanced Customer Experience
One of the main reasons public agencies are integrating microtransit programs into their service delivery model is to improve the customer experience with their respective public transit provider. Influenced by the convenience of TNCs, public agencies were forced to alter how service is delivered. The selling point of microtransit is that the smartphone app provides customers more convenience and control of the trip planning process. Customers can plan a trip at their leisure or schedule a ride for a later time. Depending on the agency bus stop model, the customer can enter any pick-up location within a designated zone, and a vehicle will either pick them up at their curb or request a short walk to a designated bus stop, generally the nearest intersection. The curb-to-curb or corner-to-corner model is appealing because it increases passenger comfort by not requiring riders to walk as far to access transit and taking them to their destination in a one-seat ride.
Improved Service for Transit-Reliant Populations
Public agencies strive to supply equitable provision to all people within their respective service areas, with an emphasis on ensuring equitable access for transit-reliant populations. Microtransit further provides agencies with the opportunity to enhance how specialized services for older adults and people with disabilities are delivered. For people aging in place and no longer driving, microtransit could benefit this population group as an on-demand service for regular transportation needs such as grocery shopping, medical and dental appointments, trips to civic and social places, and visiting family and friends. Similarly, for paratransit riders, microtransit can provide a more independent transit alternative to the traditional demand-response transit service. Most importantly, microtransit allows transit-reliant populations to access the transit in a more convenient timeframe, as opposed to the usual demand-response model of calling at least the day before the trip.
Lower Cost Alternative to Transportation Network Companies
During the past decade, most agencies in the U.S. have experienced a decline in ridership that has been attributed partially to changes in the transportation landscape, including some customers switching to TNCs for some or all of their trips. In addition, as TNCs have gained momentum in low-density environments, demand for the service has increased. As one response, public agencies are integrating a microtransit service to provide residents with a lower cost, subsidized transportation alternative to TNCs. This benefits residents in small cities and rural areas where the distance-based TNC model can result in high fares over long travel distances.
The West Sacramento User Survey found that 50 percent of the customers who relied on Uber/Lyft prior to the microtransit program, started using the agency's microtransit service more frequently.
Sense of Safety
In some environments, walking to and from and waiting at bus stops is perceived as unsafe for some transit customers. Feeling unsafe can cause people to limit transit patronage or only use it when no alternative is available. Microtransit increases a sense of safety in two ways. The service delivery model is designed to decrease the length customers are required to walk. Programs commit that a vehicle will pick up and drop off customers at minimum at their curb or a maximum walk to-and-from the nearest corner. In addition, with the smartphone app that tracks the vehicle's arrival at the bus stop in real-time, customers can time the walk to the pick-up location and decrease wait times before boarding vehicles.
Use Cases for Microtransit
Understanding the need and purpose for microtransit is essential for public transit agencies when designing a program. Despite being a fairly new service type, there is a growing list of use cases for why agencies are integrating microtransit into their operational practice. Based on a review of active programs, this section identifies three microtransit purposes that are applicable to small urban and rural transit providers. The use cases include service coverage expansion, service hour expansion, underperforming transit service replacement/ supplementing ADA service, and first mile/last mile connector. Based on identified need(s), agencies can elect to use microtransit for one or a combination of any of the use cases described in this section.
Service Expansion
Service Coverage
In most rural settings, the transit agencies have the challenge of providing coverage to multiple localities throughout an extensive service area composed of low-density land uses. Public agencies use microtransit to increase coverage in large service areas as one solution. In some cases, agencies are replacing fixed-route bus service with microtransit and using the service as the primary transit mode for the entire area. In other cases, agencies are creating multiple zones within the service area and using microtransit as a feeder service to other transit services.
Mountain Empire Transit (MET) is an example of a rural public transit provider that uses microtransit to cover an entire municipality. In 2021, MET launched METGo! becoming one of the first rural transit providers in Virginia to supply a citywide microtransit service. Selected as a pilot by the Virginia Department of Rail and Public Transportation, any resident within the Town of Wise and the City of Norton can use a smartphone app to hail a ride to and from anywhere within an 11 square mile zone, as shown in Figure 7Figure 7. The METGo! service was implemented to supply transit coverage for an entire rural city. The microtransit service operates in addition to the existing dial-a-ride program, allowing customers in the two cities to use a smartphone app to plan and reserve a trip in real-time as opposed to calling 24 hours in advance to schedule a trip.
Figure 7: Mountain Empire Transit MEtGo! Service Area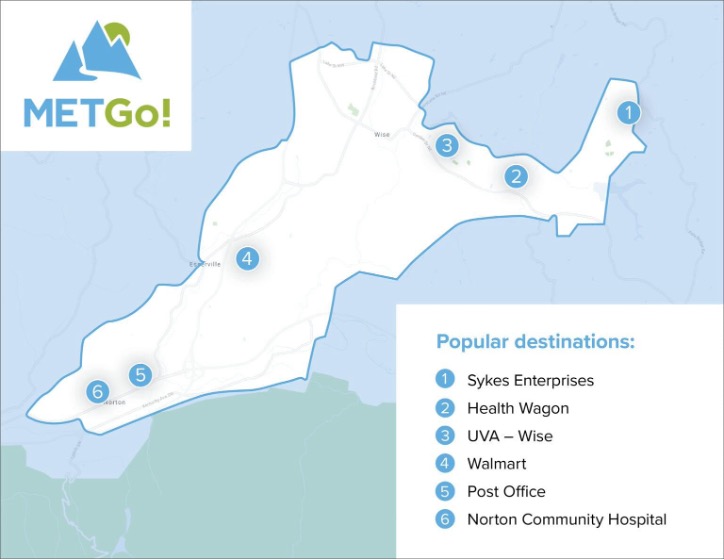 Source: Mountain Empire Transit, 2021
Service Hours
Public transit service hours in small cities and rural areas typically supply service on weekdays between the hours of 7:00 a.m. and 6:00 p.m. and limited weekend hours (in most cases, there is no Sunday service). However, a common theme from stakeholder feedback, particularly from the service industry and third shift workers who are known to rely on public transit, is that service hours should be extended to earlier in the morning and later evening. In response, in this use case, public transit agencies are tailoring service hours and supplying microtransit service outside the traditional service hours.
The Shoreline Metro Microtransit Feasibility Report: Improving Transit Solutions for all Customers Report is a notable example of a public transit agency using microtransit to expand coverage hours. The agency developed a three-phase plan for integrating microtransit service into the service typology. In Phase 1, on weekdays, fixed-route bus service would end at 5:45 p.m., and then microtransit service would be supplied for three additional evening hours. Similarly, on Saturdays, microtransit service would be supplied for two additional hours in the evening after the fixed-route bus service ends. In another example, in the recently published Northeastern Wake County, North Carolina Rural Microtransit Service Plan, a key takeaway from stakeholders suggested that the microtransit service hours span from the early morning to late evening hours to ensure there is coverage for service industry workers. These two plans demonstrate how public transit providers are using microtransit to expand service hours beyond traditional hours.
Underperforming Transit Service Replacement/ Supplementing ADA Service
Public agencies generally deploy three types of transit services in small cities and rural environments, fixed-route, deviated fixed-route, and demand-response services. The traditional fixed-route bus is used to connect residents within the community or to neighboring small cities. Generally, there are few routes that originate at a downtown transportation hub on an hourly basis and connect through residential communities along arterial roads. Deviated fixed-route bus is also a commonly used service type, in which agencies operate similar service to the traditional fixed-route bus but differing by allowing for route deviations up to ¾-mile radius per customer request. However, the most widely used and longest-standing transit service in small cities, particularly in rural environments, is demand-response transit (dial-a-ride). This service type is also used to provide ADA complementary paratransit service, as required by FTA Circular 4701.C.
Microtransit has emerged as a solution with the potential to provide more efficient transit services in small cities and rural areas. Most commonly, agencies examine bus routes individually, and the underperforming routes or underperforming segments are replaced with microtransit. In another example, agencies are replacing underperforming services during certain times of the day, targeting specific rider groups, and tailoring the microtransit service to attract riders. A lesson learned from the COVID-19 pandemic was that essential workers depend upon public transit services; however, many employees' shift start and end times are outside the agency's traditional service hours. Using microtransit, agencies can supply a tailored service during the early morning and late-night hours, for example.
Another use case is to supplement/upgrade ADA paratransit offerings. As the traditional dial-a-ride model becomes outdated, microtransit provides the opportunity to improve the scheduling and dispatching of vehicles for ADA paratransit trips. In this case, the primary change is not related to the type of service being offered but to the implementation of new technological capabilities that enable riders to book and pay via a mobile app and have access to more real-time information about when their vehicle will pick them up and their estimated arrival time at their destination. As discussed in the benefits section, customers have more control of the trip planning process, and there is potential to reduce customer call center volumes.
Public agencies are also examining their entire transit network and finding microtransit as a suitable solution. Like many small rural cities, the City of Wilson, North Carolina, was experiencing underutilized and underperforming bus routes. As a solution to improve efficiency and the customer experience, the city planned a microtransit program. In 2020, the City of Wilson, North Carolina, replaced its public transit system with a citywide microtransit program. As shown in Figure 8, the microtransit service (RIDE) covers the entire 23 square mile city, providing access to residents within the city limit.
Figure : City of Wilson, NC Citywide Microtransit (RIDE) Bus Replacement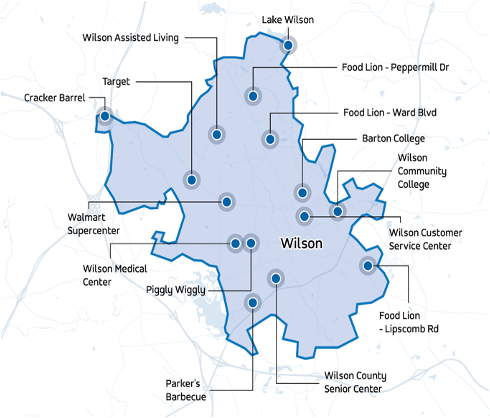 Source: City of Wilson, NC, 2021
First Mile/ Last Mile Connector
Access to fixed-route service in small cities may be limited for residents due to the difficulty of covering large areas with regular transit service. Public agencies primarily supply fixed-route or deviated fixed-route buses along arterial roads serving places of interest. Although deviated fixed-route service is designed as a flexible transit service to pick up and drop off customers closer to their origins and destinations, the bus typically only travels up to ¾-mile from the arterial road. This leaves some residents beyond the transit provider's catchment area and requires customers to walk a distance to catch a bus. In places with low intersection density or poor sidewalk conditions, the lack of an FM/LM transit connection can place a significant burden on vulnerable populations and even act as a barrier to transit use entirely.
Microtransit is another mobility solution that can be used in small cities to serve as a feeder service to and from fixed-route service and transit facilities. In this use case, microtransit as an FM/LM service is used to reduce barriers to transit use and to serve as a complement to existing transit services. A common process is to create one zone or multiple zones in residential communities throughout the service area. The microtransit serves as a community circulator and connects people to and from the other transit services.
In 2019, Montgomery County, Maryland, a suburb north of Washington, D.C., launched the Ride On Flex microtransit program. One of the goals of the program was to supply a mobility connection for residents who lived in neighborhoods where it is too far to walk or unsafe to walk to the nearby rail station. One of the zones, shown in Figure 9, spans 3.4 square miles and is served by two vehicles, serving as a feeder service for residents to and from one of two Washington Metropolitan Area Transit Authority (WMATA) Metrorail stations. In a performance report published by the County department of transportation, approximately 32 percent of the trips started or ended at a WMATA Metrorail station.[1] A smaller share connected to and from other fixed-route bus services, nine percent to Ride On fixed-route buses (the County fixed-route service) and five percent to WMATA fixed-route buses (the regional fixed-route service). Approximately five percent of Flex customers had a linked trip to the Flex service, and roughly 20 percent of the customers that used a SmarTrip® card did not transfer to or from another transit service.
Figure : Montgomery County Ride On FLEX FM/LM Microtransit Program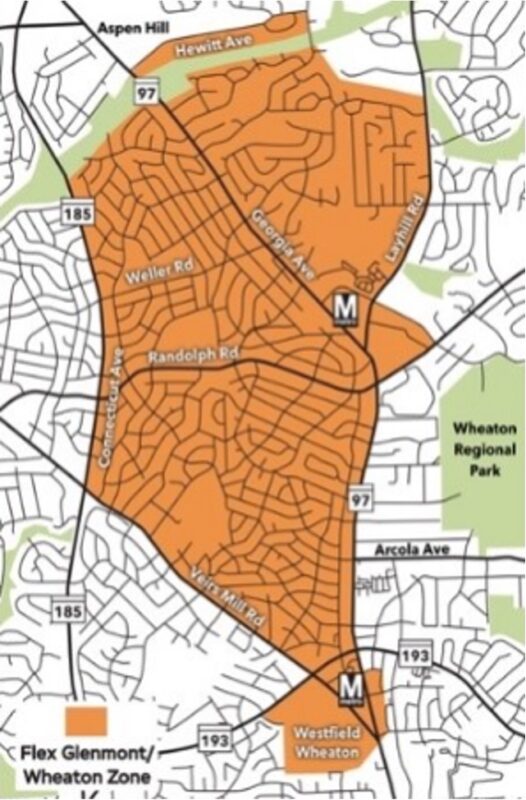 Source: Montgomery County, Maryland Department of Transportation, 2020
Understanding Your Agency's Needs
With an understanding of the potential benefits and use cases of microtransit, as described in this chapter, agencies can be better equipped with a base knowledge on how microtransit can benefit their community and how to use microtransit in their service area. Before deploying a microtransit program, agencies need to identify a need for the service. There are five main factors agencies need to evaluate to determine the need for microtransit:
Rider and non-rider demographics. While agencies are familiar with their existing customer demographics, an additional assessment should be undertaken to identify non-rider demographics.
Existing rider travel behaviors. For existing riders, public agencies should identify travel behaviors with an emphasis on determining how microtransit can retain riders and/or enhance the customer experience.
Non-rider travel behaviors. For non-transit riders, agencies need to identify their current travel behaviors, reasons for not using transit, and reasons that can motivate them to use transit.
Comfortability with and access to technology. One contributing factor of a microtransit program is for users to be comfortable with a smartphone or tablet. Therefore, public agencies need to determine existing riders and non-riders technological competency and comfortability with using electronic devices. While if an agency finds low comfortability in their community, an increased level of education has the potential to shift people's perspective on microtransit.
Performance of existing service. An evaluation of the existing services can guide agencies in determining what services to complement or replace with microtransit.
Figure 10 identifies considerations for the five areas agencies need to understand to develop and implement a microtransit program (this list is not exhaustive and serves as a sample for agencies to use and build upon). Agencies can use standard stakeholder outreach techniques to include public meetings, focus groups, and/or surveys to gather input for the rider and non-rider demographics, existing rider travel behaviors, non-rider travel behaviors, and comfortability with and access to technology. For the performance examination of existing services, agencies can use their current service evaluation methods to determine services/bus routes and areas suitable for microtransit. The information gathered from the five areas can better inform agencies on if and when there is a need to pilot a microtransit service in their community.
Figure 10
Rider and Non-Rider Demographics
Age
Gender
Race and Ethnicity
Economic Status
Educational Attainment
Employment Status
Vehicle Access
Existing Riders Travel Behaviors
Place of residence
Places of interest of travel
Frequency of public transit use
Common travel days/times
Non-Rider Behaviors
Place of residence
Mode of transportation commonly used
Reason(s) for not using public transit
Reason(s) for starting to use public transit
Comfortability with and Access to Technology
Internet/Wi-Fi service at the place of residence
Smartphone ownership
Smartphone data plan
Active e-mail account
Active bank account or debit/credit card
Performance of Existing Services
Productivity
Service effectiveness
Service efficiency
Key Takeaways
Microtransit has grown in popularity over the last several years, fueled in part by technological advancements in vehicle routing and mobile apps. As a result, transit agencies and cities are looking toward partnerships with private technology providers to implement microtransit services in their communities. Below is a summary of key takeaways from this chapter to include:
Agency Potential Benefits

Improve ridership and improve performance
Reduce call center staff dependency
 Minimal bus stop improvements
Improve data collection, analytics, and reporting

Customers Potential Benefits

Enhance customer experience
Improve service for transit-oriented populations
Expand service hour spans
Lower cost alternative to TNCs
Sense of safety
Improved vehicle accessibility

Use cases

Service expansion (new service areas or days/hours)
Replace underperforming transit service (fixed-route bus, deviated fixed-route bus, and demand-response transit)
First mile/last mile connector

Considerations for understanding your agency needs

Rider and non-rider demographics
 Existing rider travel behaviors
Non-rider travel behaviors
Comfortability with and access to technology
Performance of existing service
The next chapter describes how to conduct a market analysis and microtransit suitability analysis to identify where a microtransit service is feasible in small cities and rural environments, followed by describing the elements to develop a microtransit zone.
Key Resources:
Montgomery County Department of Transportation Ride On Flex Microtransit Performance Assessment
West Sacramento's On-Demand Rideshare Pilot: A Summary of 6-Month User Survey Findings