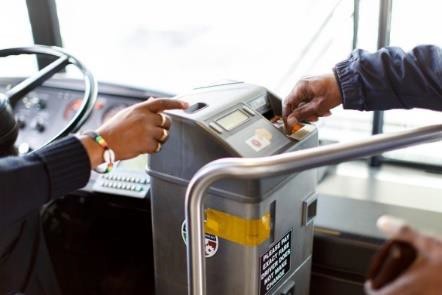 New Fare Payment Systems and Payment Technology
Jump to section
Executive Summary
The purpose of this New Fare Systems and Payment Technology Guidebook is to offer a reference tool for transit agencies, specifically rural, small urban, and tribal providers, seeking to explore or deploy innovative fare technology. This guidebook is structured in three main parts: knowledge-building, learning from peers, and deployment to empower agencies to select a fare technology that meets their needs.
The knowledge-building section describes the fare systems, payments, and policies that serve as the foundation of new fare technology. When evaluating the potential benefits and challenges of fare systems, the best option for small systems is to choose an open-loop, account-based ticketing, fare payment as a service system. Agencies can implement this fare system quickly and benefit from the lower upfront capital costs and long-term operational flexibility. This fare system requires limited technical knowledge and can meet agency objectives to increase convenience for transit riders. To take advantage of technology-driven fare systems, transit agencies can contract with vendors such as fare systems providers, financial institutions, or credit card companies to provide the fare system or payments that allows riders to utilize fares other than cash.
The learning from peers section provides insights from other transit agencies, through seven case studies, who have deployed different types of fare payments or systems (Table 1). This section includes a discussion about the fare technology and vendor selected, motivations for using new fare payments, timing to implementation, and advice from transit agencies for other providers considering new fare technology. There are multiple approaches to selecting and implementing fare payment(s) to meet the needs of the transit rider. The fare payment selected should meet agency goals for fare technology and promote equitable access for riders, especially those who may be unbanked, underbanked, or without smartphone technology.
Transit Agency
Fare Technology or Service
Goals
BRATS
Cashless

Reduce farebox transactions between riders and drivers (COVID-19)

MET Transit
FPaaS and Smart Card

Reduce farebox transactions between riders and drivers (COVID-19)
Improve rider convenience

Durango Transit
Mobile Ticketing and ABT

Integrate cost-effective fare technology
Improve rider convenience
Improve service reliability for riders

Lancaster-Fairfield Transit
Open Payment and ABT

Integrate payments across various transit systems
Improve rider convenience
Improve service reliability for riders

MST
Open Payment and Smart Card

Reduce inequality and best service riders
Reduce farebox transactions between riders and drivers (COVID-19)

WMTS
Smart Card, Open Payment, Standards-Based

Improve rider convenience
Improve operations by reducing time counting cash
The final section focuses on preparing for new fare payment technology deployment. Benefits and challenges for each fare payment and system provide agencies with a holistic comparison tool that can be used for decision-making when evaluating trade-offs in costs, operations, and ease of use both for the agency and the rider.  Additionally, a timeline from exploration to deployment provides insights for transit agencies every step of the way. Industry best practices and recommendations conclude the guidebook and offer important considerations for transit agencies regardless of the fare payments or fare system selected. Best practices can be used as a reference to avoid potential pitfalls and strategize integration and deployment of the new technology. Examples of best practices described include establishing agency goals, leveraging a joint procurement, prioritizing equity, and utilizing an evaluation strategy to select and deploy a new fare technology to best serve the traveling public.